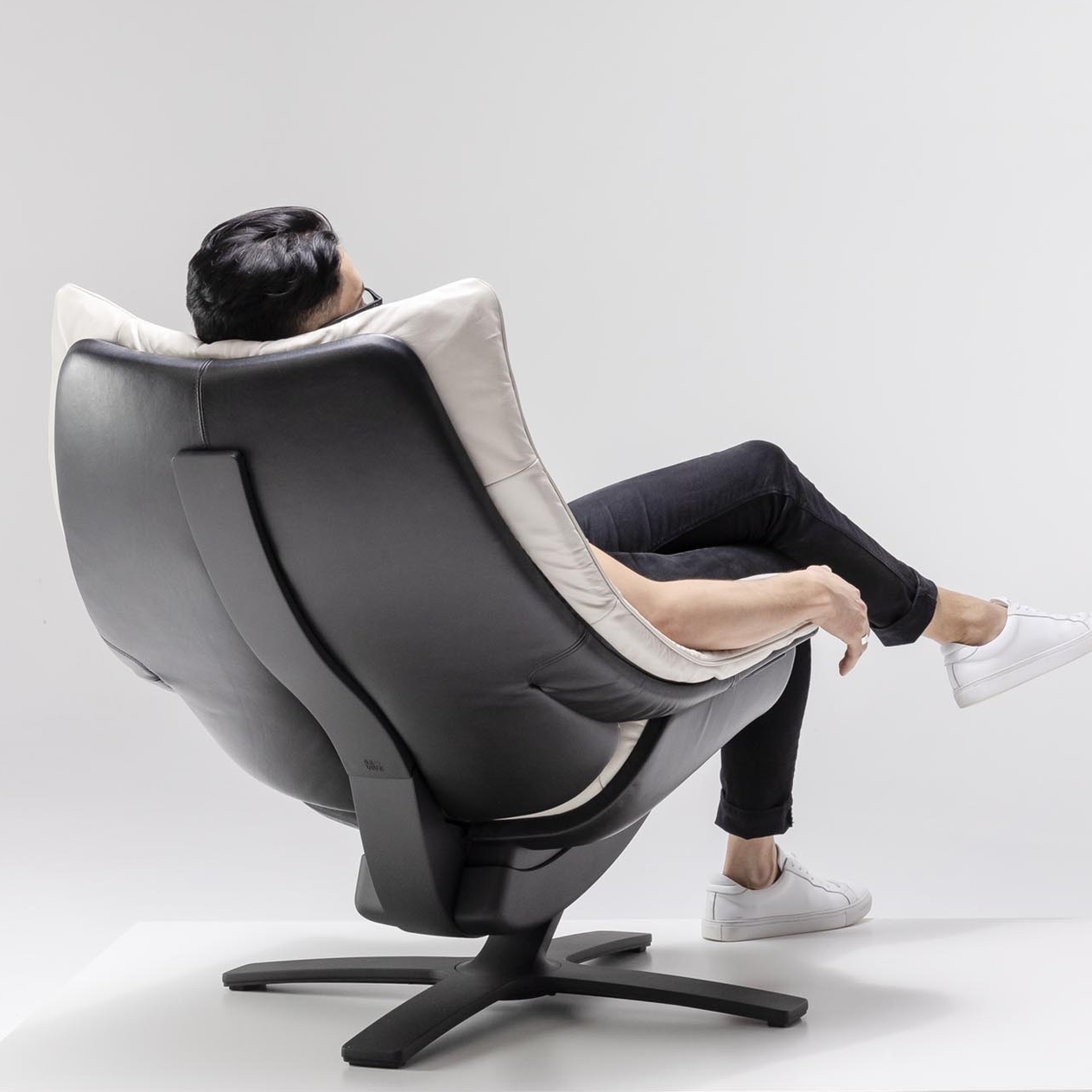 Revive
Designed for
Natuzzi
2015
Our dream was to create a more comfortable world, a place where you can recline, relax and revive.
Comfort is not about levers or buttons or a complicated set of instructions.
With subtle signals from your body, Revive lowers you into the ideal neutral position. Its flexible structure mimics our own spinal physiology helping you feel weightless, while continuously supported.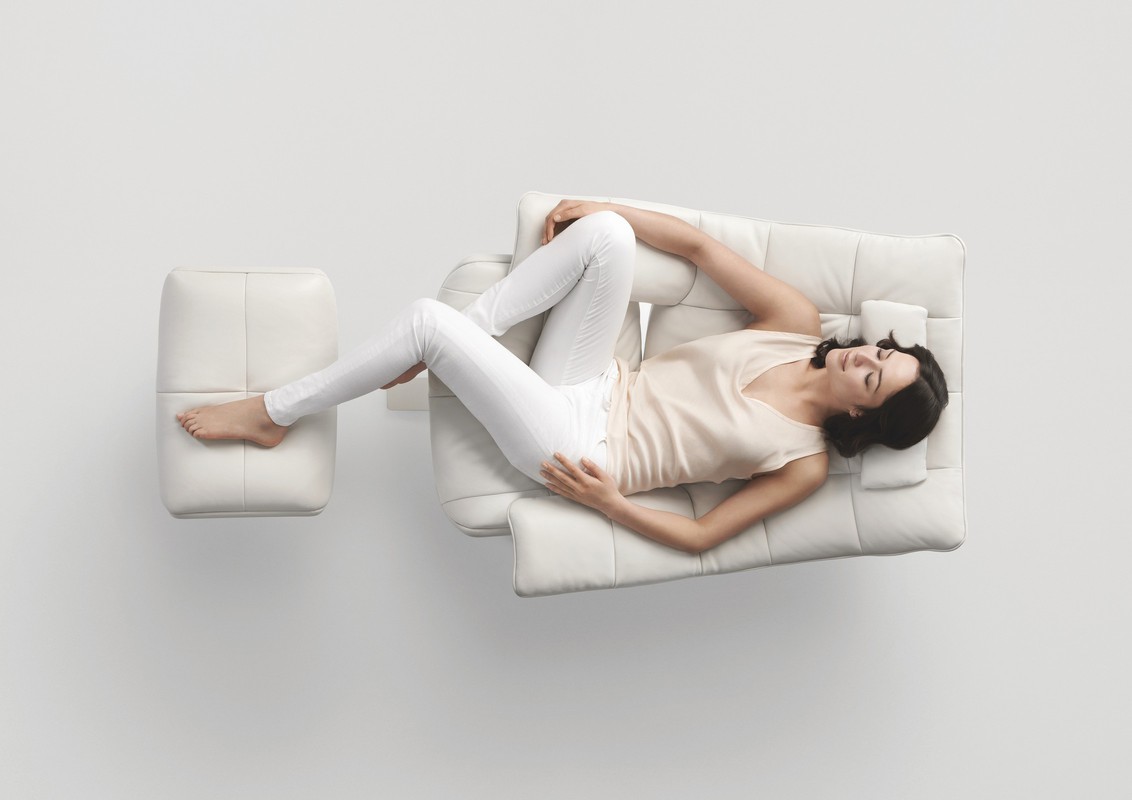 Our goal was to redefine comfort as well as style. In doing so we have developed the world's first high performance recliner.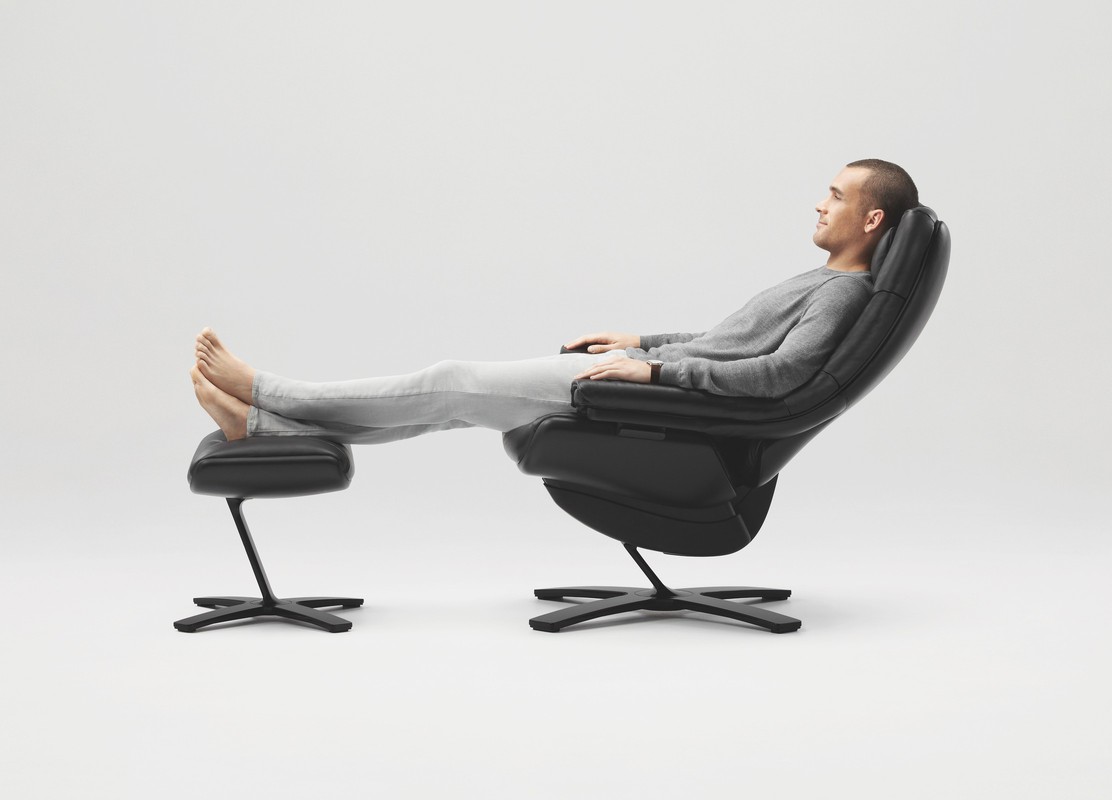 Our research identified an opportunity at the intersection of a number of global mega trends—aging population, urbanization, trading up, baby boomers, technology, leisure—for a lounger that enriches everyday lives. Voice of the Customer research was used to clarify the need and identify the key drivers for the project brief.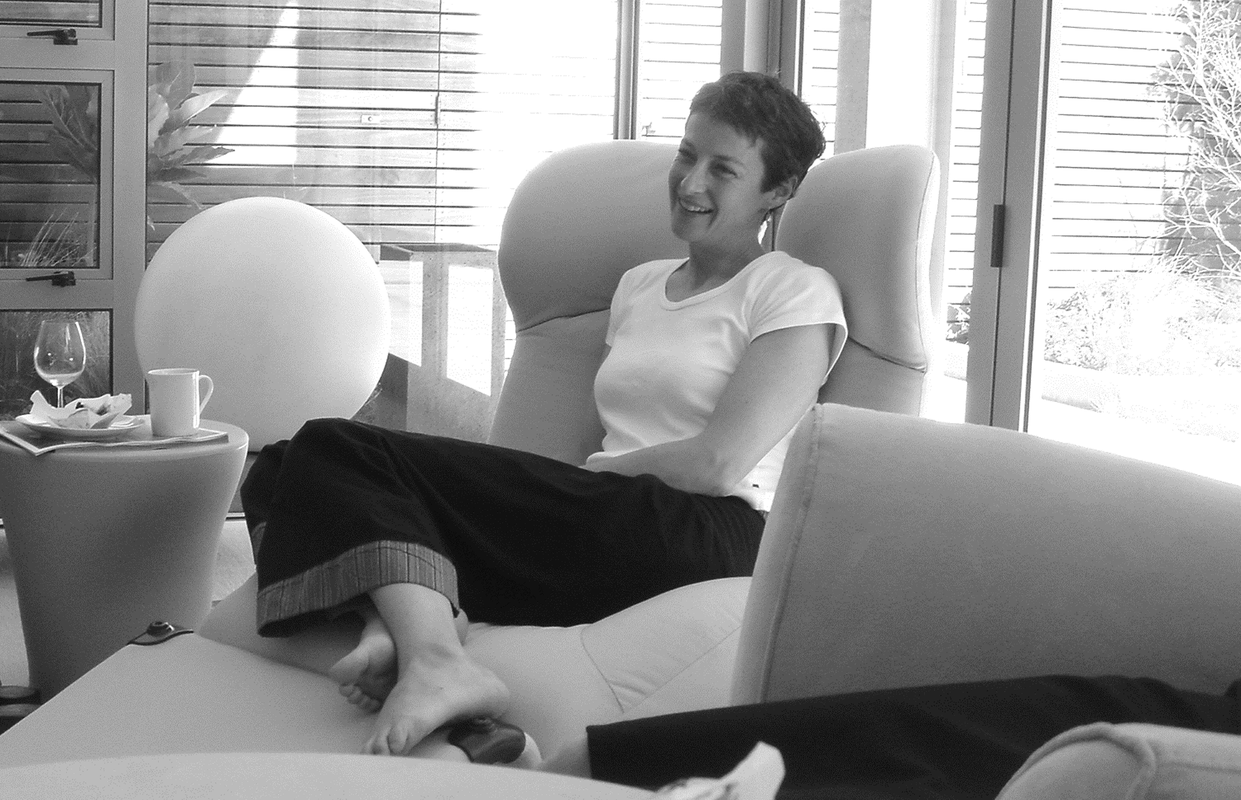 The technology driving recliners is over 50 years old. Most are driven by a clunky mechanism that throws the body into set positions through the use of a lever. We set out to design a performance recliner that would have a fluid dynamic support and would be sensitive and responsive to your own body weight. So rather than you sitting on the chair and conforming to its shape, you sit with the chair and in doing so you shape it.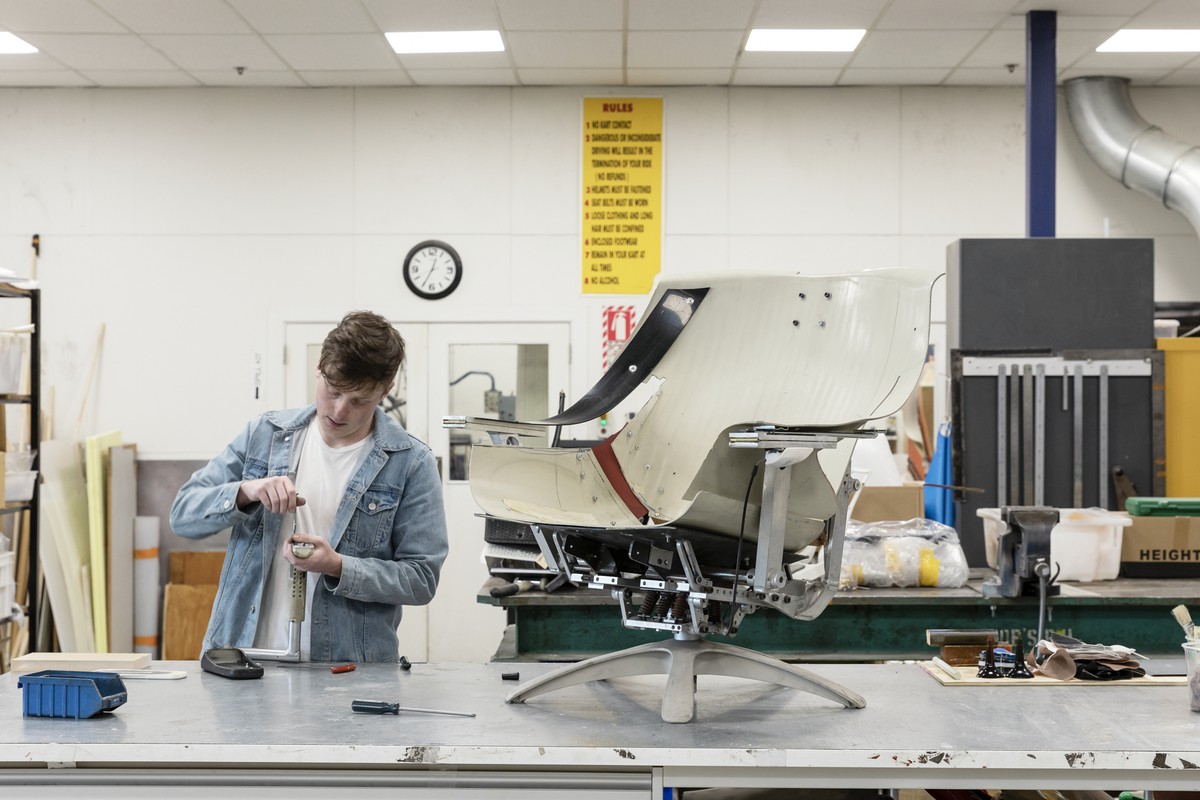 We used the knowledge developed over years designing comfortable and healthy office chairs to develop a number of mechanisms to provide the recliner its multi-dimensional movement. We created Fluid Motion, a natural fluid movement more human-like than a robotic two-dimensional movement.
Support
To truly relax people first need to feel supported. We wanted to create a recliner that was comfortable, supportive and flexible. Relaxation isn't all about zoning out, it can often be about connecting and engaging. With no levers or buttons to manipulate in the Revive recliner you shift naturally from one position to another. The chair seamlessly responds to your movements while continuously providing support between transitional states of relaxation and activity, static positions and the body in motion, sitting and standing.
Style
We believe performance and style need to go hand in hand. If support and comfort are essential, so too is form, finish and timeless design. Where you choose to relax is personal. We have developed a unique support technology presented in different ways to match different design styles.
Available in three leather upholstery styles, two sizes and multiple colour options, Revive is designed to complement your favourite place to relax. The touch and feel of the premium leathers, the delicate stitching by Italian craftsman and the smooth engineering of the mechanism combines to invite you to sit, stretch out and relax. With Revive, comfort doesn't compromise style.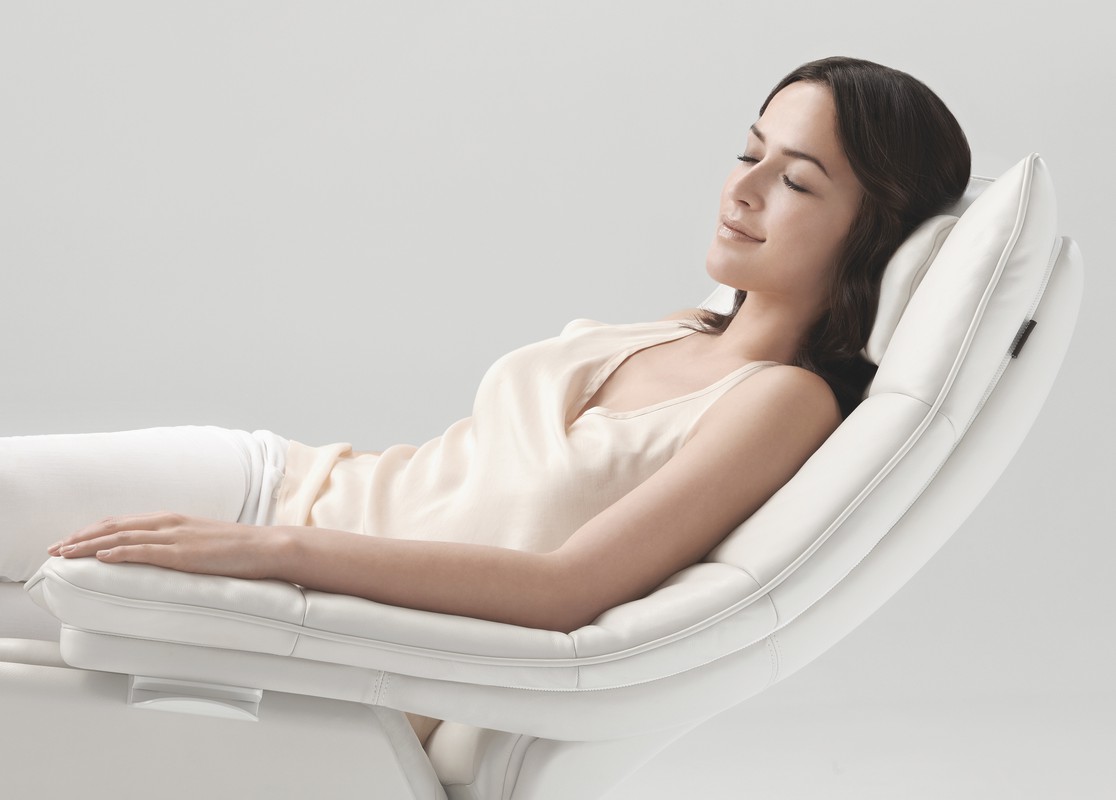 Mind & Body
We wanted to design a chair that had a relationship with the mind as well as the body.
As the world speeds up around us, sometimes we need to stop, recover and rebalance. Our home is where we can do this. One of life's great pleasures is to simply slow down, to unwind, daydream and imagine. When the body finally stops and relaxes, so can the mind.
At the core of the chair there is a combined rocker and a recline mechanism so the chair is always dynamic with a rocking action in any position.
The back of the chair has a spine made of an engineering polymer, which is able to flex without failing. This provides dynamic flex in the back of the recliner, while the upholstered support distributes your weight across the back and into the arms, allowing you to move in the chair in a twisting, three dimensional movement.
When you recline, your weight shifts. As you lean back, more of your body weight goes into the back of the recliner rather than down into the seat and the load changes to keep your body in perfect balance—your feet lift, and your arms move with the arms of the chair.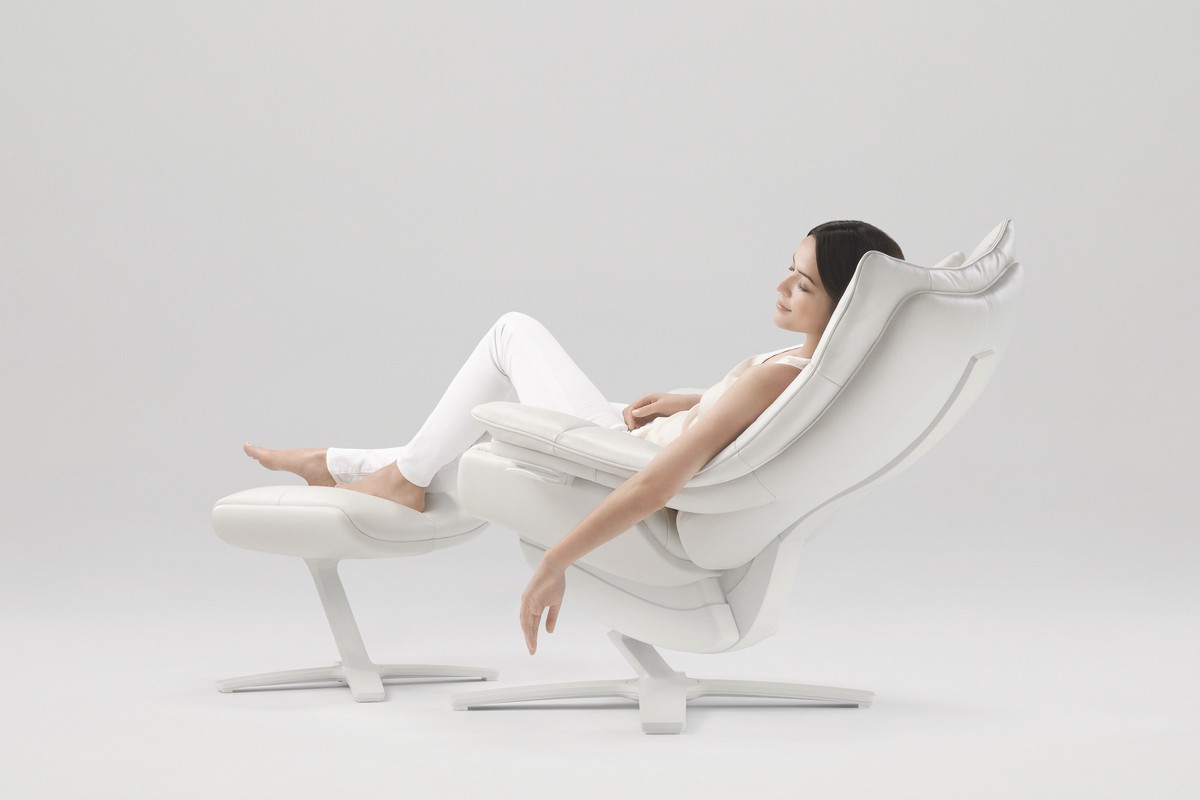 01
1. Responsive Recline
Responsive Recline uses a weight compensating mechanism that provides a natural reclining motion in perfect balance. Seamless transitions intuitively respond to your posture changes, letting you maintain maximum comfort in any position without adjusting anything.
02
2. Active Arms
Active Arms feature live motion that mimics your movement in any position, sliding gently with you as you change between upright and recline, while providing constant support.
03
3. Live Back
Live Back mimics your body, encouraging both micro and macro movement. Live Back has three distinct flex positions – twist, lumbar and recline flex that work in unison to deliver fluid natural movement.
04
4. Fluid Motion
A number of mechanisms add up to provide the recliner its multi-dimensional movement. We created Fluid Motion, a natural fluid movement more human-like than a robotic two-dimensional mechanical movement.
Awards
2014

Best Design Awards Gold

2014

Israel international Fair Technological Innovation

2013

Espritmeuble Furniture Fair Throphee de I'lnnocation