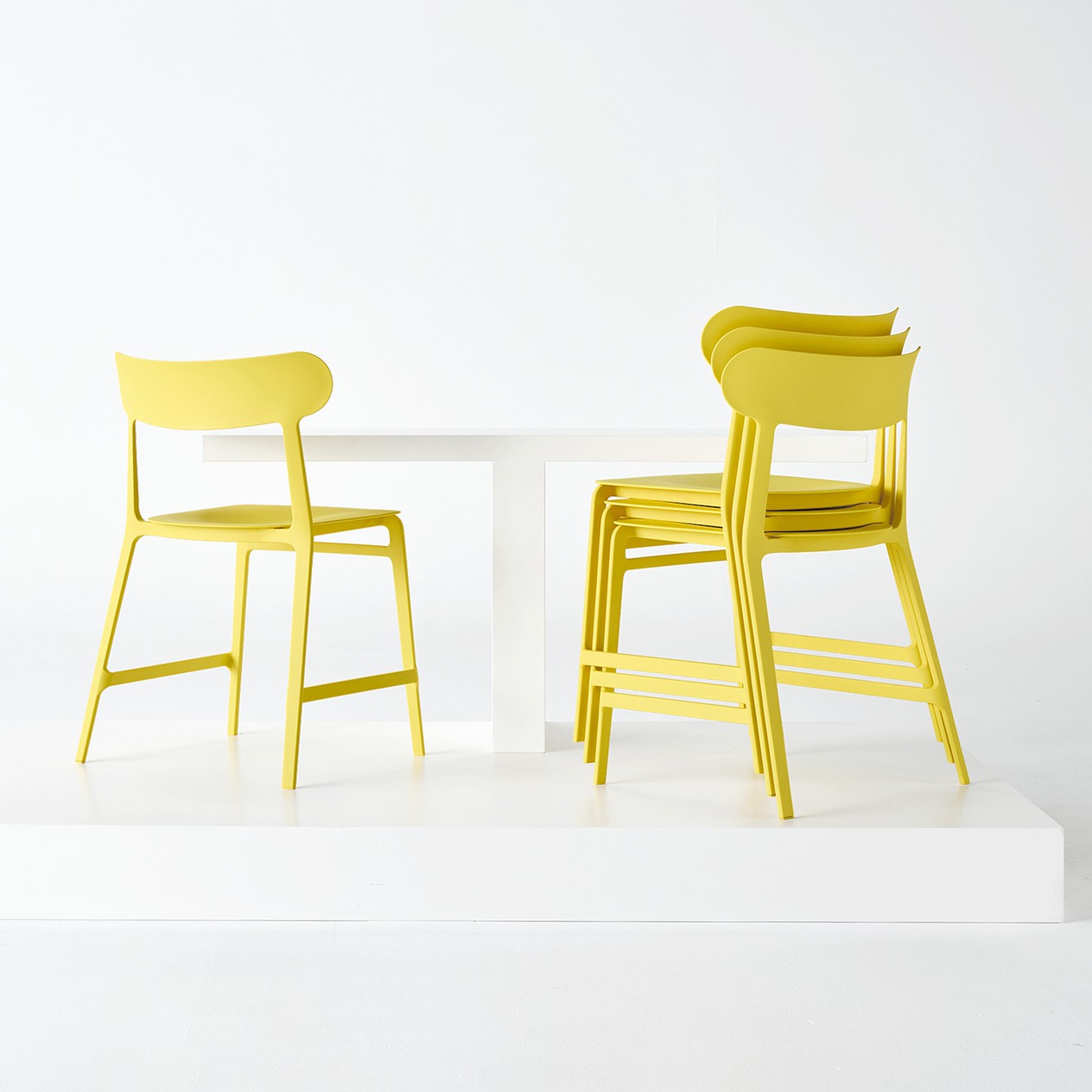 Lightly
Designed for
noho
2023
Lightweight, plant based and durable. Lightly is the stacking chair that does more with less.
The design for Lightly was guided by the world we find ourselves in today: dense, busy, variable, and environmentally minded. This set our course—to find great materials, use them sparingly, and create a chair that fits wherever and whenever it is needed.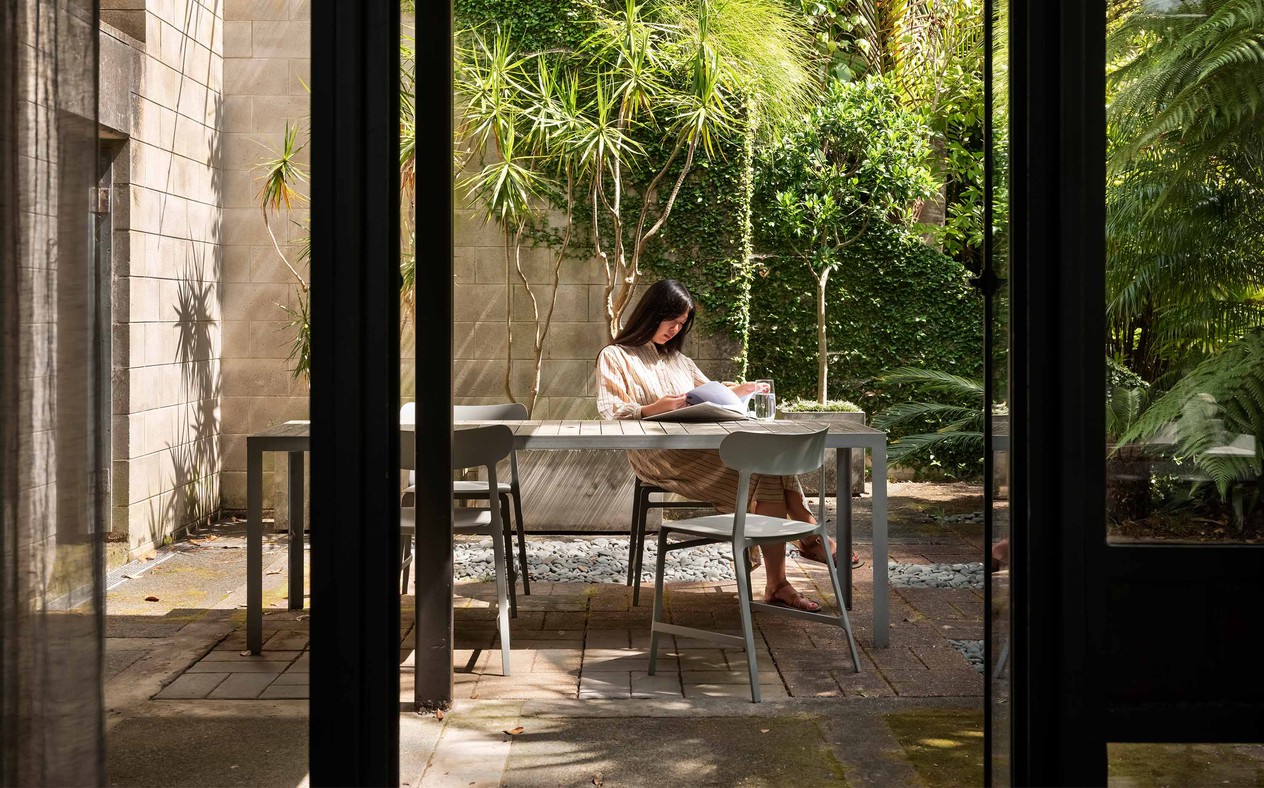 Our research covered global megatrends—urbanisation, aging populations, online shopping and environmental concern.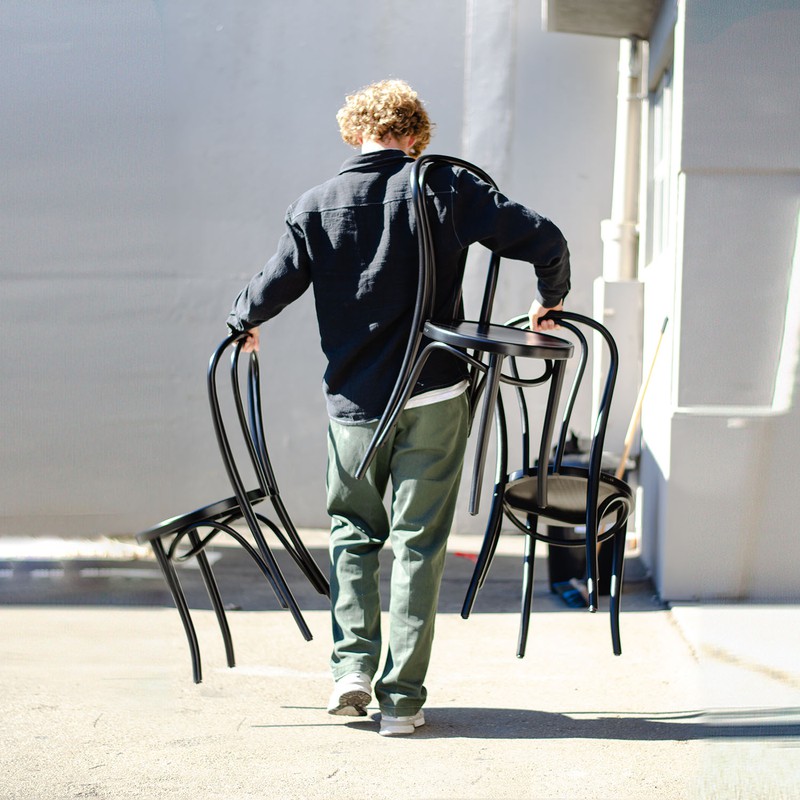 Houses are becoming more compact within denser cities. The spaces we live, work and socialize in frequently change to accommodate different numbers of people and activities. Our appreciation for the planet and resources is encouraging more conscious decisions about materials and how they're used.
All this pointed to the opportunity to create a simple, mobile chair. A chair that is efficient in how it's made, and how it's delivered to market.
Material research uncovered another opportunity, a plant-based polymer with properties to rival virgin engineering plastics.
To create a lightweight chair, use less material. To make a chair easy to store, make it efficient to stack. These factors resonate with the way we live, but they also reduce a product's environmental impact—less material means using fewer resources, and stacking maximizes the number of products that fit in a container for shipping.
Minimal material
Lightly's fine frame is a visually defining feature. The structure recalls traditional timber joinery techniques—it provides reinforcement where necessary in the form of tie bars between the chair legs. Those tie bars lock the chair into a strong and stable unit, despite the minimal amount of material used.
This structure was proven through physical testing and computer simulations. A 3D-printed frame was reinforced with fiberglass to create a single, homogenous part. It was then carefully calibrated to flex as our chosen material would so that we could sit in it to confirm it felt sturdy. Meanwhile, digital models of junctions were iteratively analyzed and improved through computer simulations, to fine-tune the surfaces connecting each element.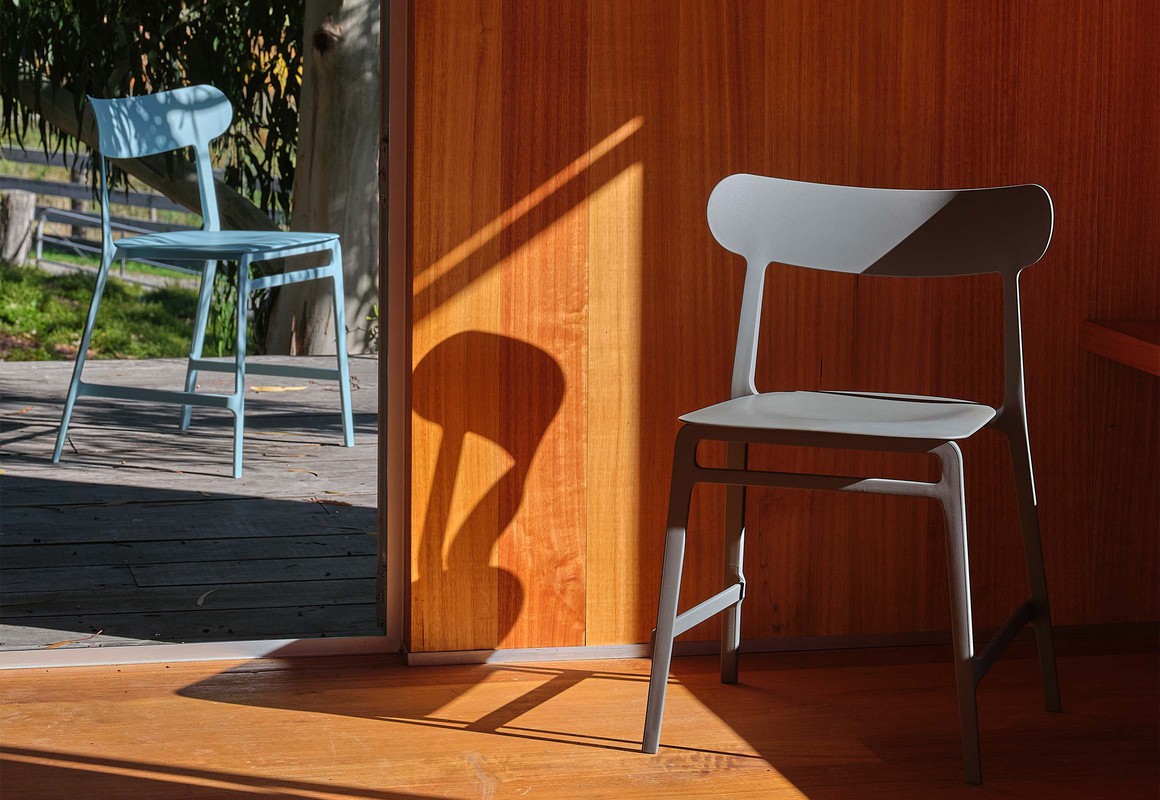 Comfort
Our prototype fiberglass and 3D-print chair went through iterations of user trialing to ensure the fundamental elements, the seat and back, were comfortable in a range of postures.
The finer forms of the surfaces were then 3D printed and shaped by hand until perfect. The back curves to hug your lumbar, and the back posts offer a springy resistance as you lean into the chair, encouraging idle movement. The seat is generously dished to effectively spread the pressure from your ischial bones. The perimeter of the seat gently slopes down to form a waterfall edge, removing pressure under the thigh regardless of the direction you sit in the chair.
Diverse character
A low profile and quiet character let Lightly assume a personality based on the space its in. The wide and low form of the back, curving up to peek over a tabletop, creates a visual signature to identify Lightly by. While we removed as much material as possible from the structure, this back form maintained the friendly and generous personality we desired.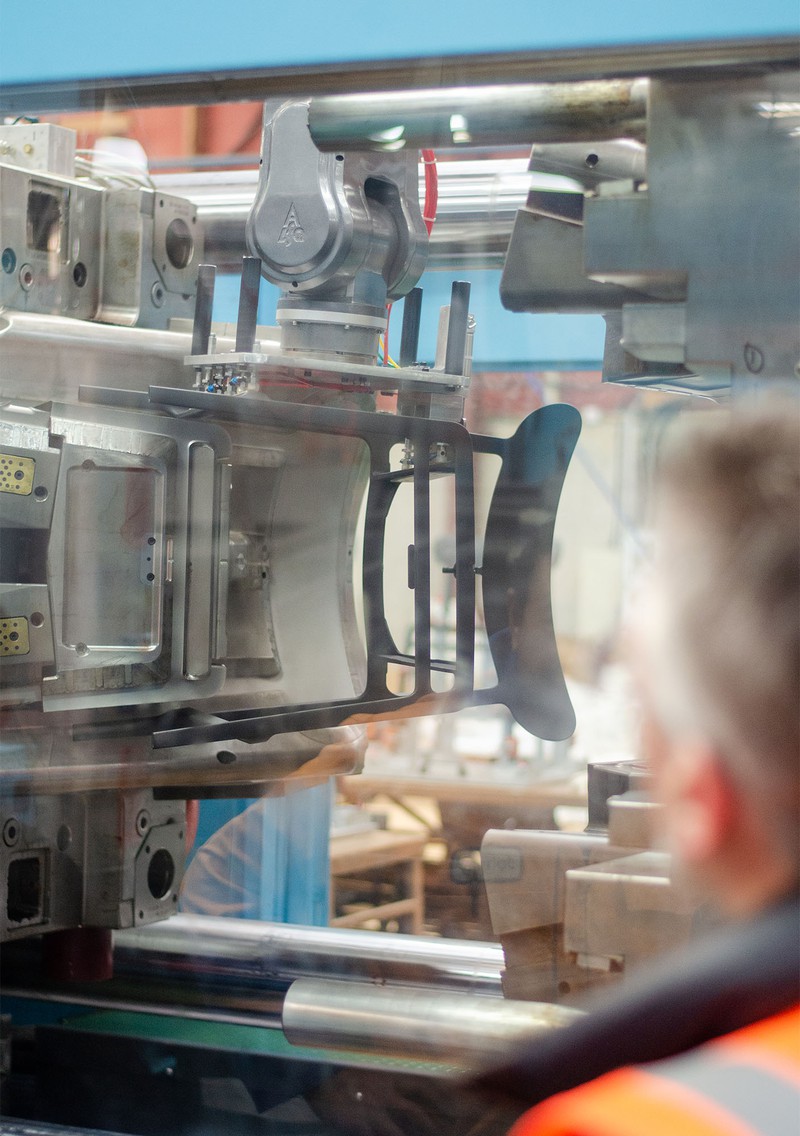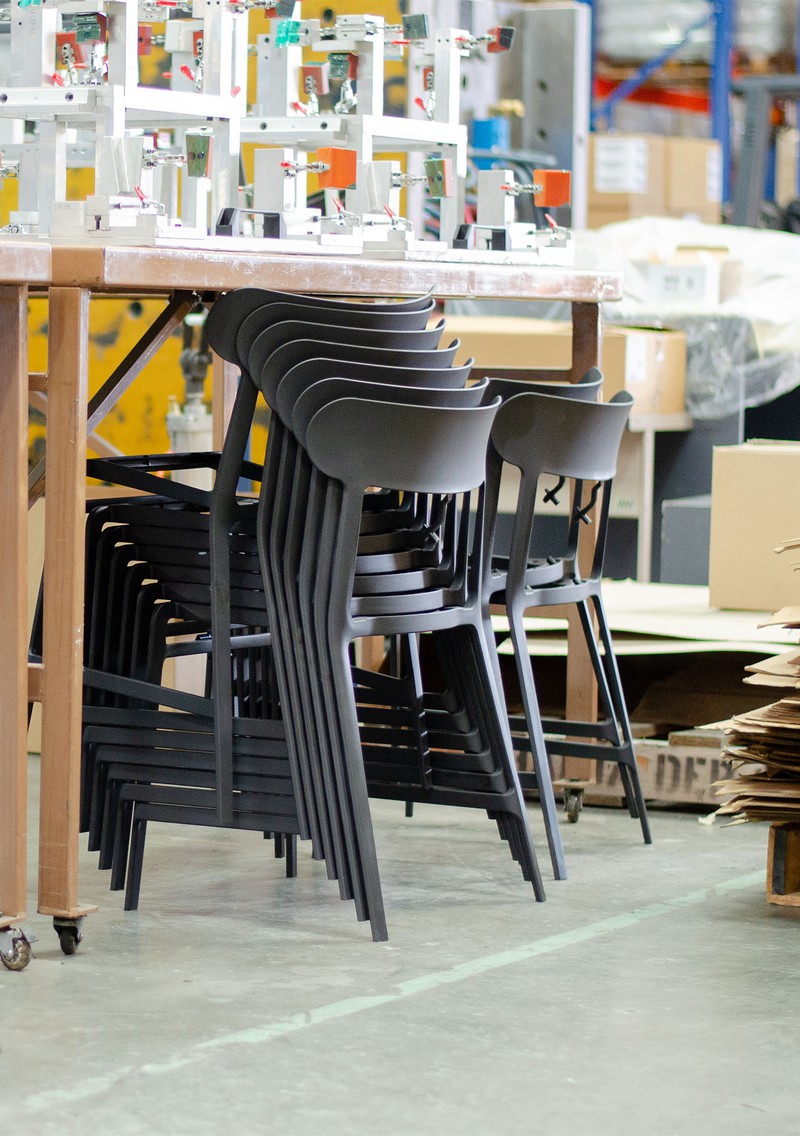 Light and nimble
Weighing just 2.7kg (6 lb), Lightly is the perfect chair to pull out to accommodate a change in activity. The ability to move and store furniture is a simple factor that can enhance the functionality of a space, whether it's a café, conference room, or your home.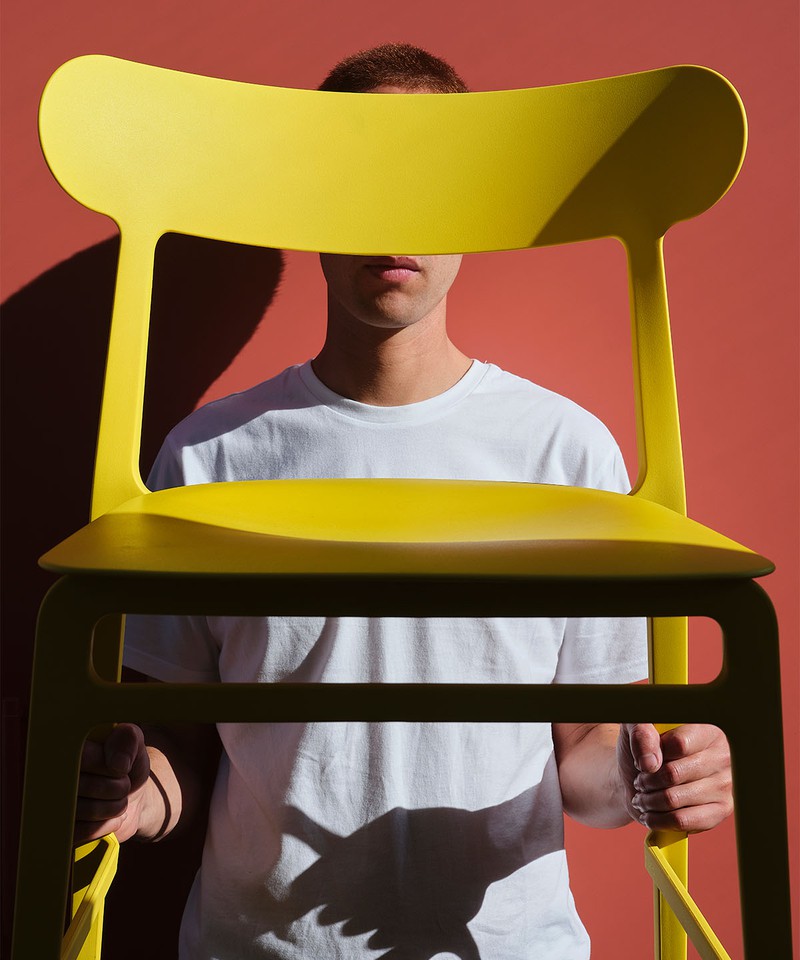 Stacks to ship and store
Lightly stacks 15 high into boxes designed for long-distance shipping. 110 of these boxes fit in a single container, meaning we can transport 1650 chairs at once.
From a user's perspective, that translates to a stack of ten chairs at home which occupies a similar footprint to a single chair.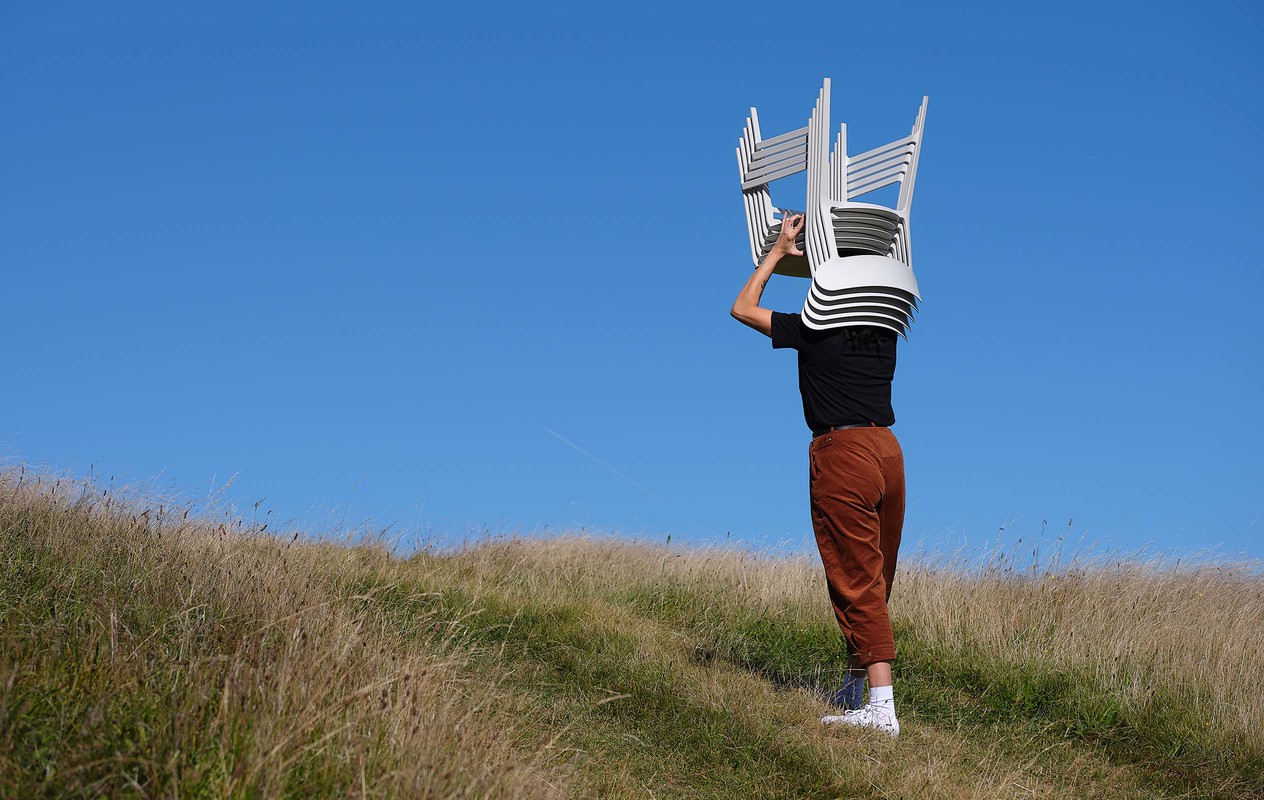 Made from plants and waste
The Lightly frame is molded in EcoPaXX, a polymer made from the castor bean plant. As the castor bean plant grows, it absorbs carbon from the atmosphere. The plant is then transformed into the base polymer for the frame, becoming incredibly strong, tough, and stiff.
The seat is made with a post-consumer recycled polymer called ASA, known for its resistance to impacts, wear, and UV.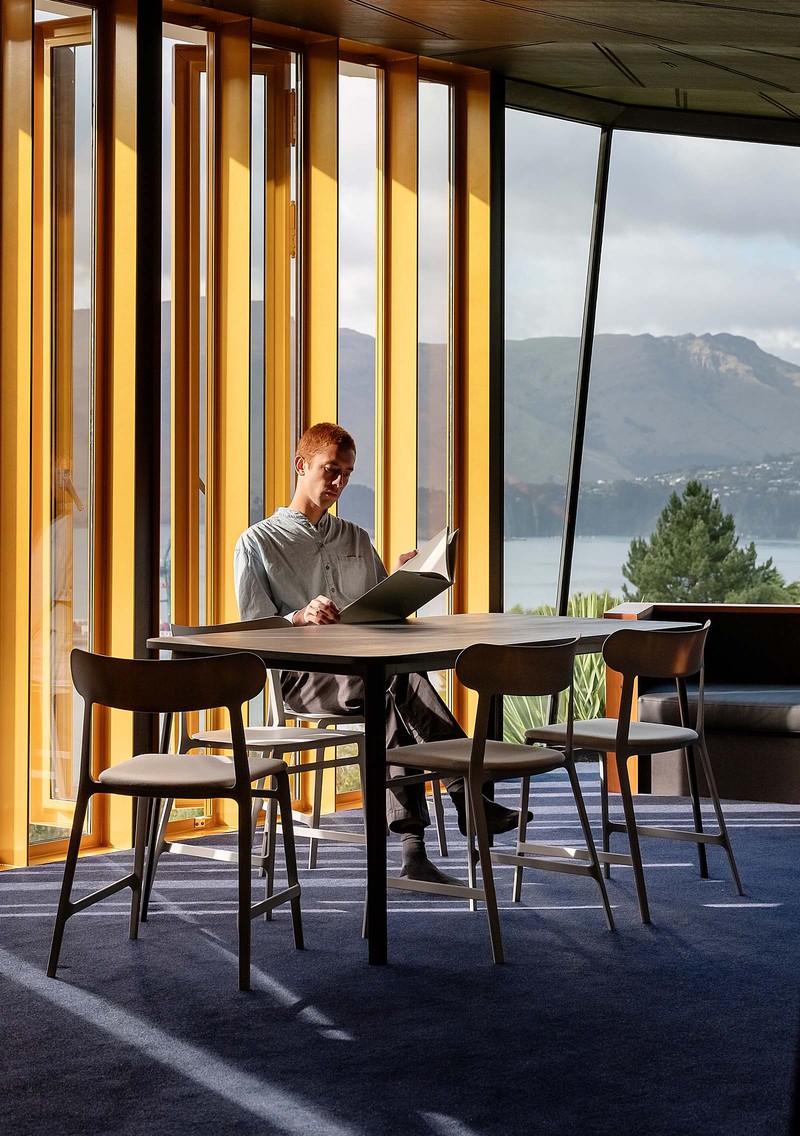 Durable for a long life
Designed to be as strong as it is lightweight, Lightly exceeds the world's toughest commercial furniture standards. This ensures that even in high traffic spaces Lightly will lead a long and useful life.
Awards
2022

Best Design Awards Gold – Furniture

2022

Best Design Awards Gold – Sustainability

2022

Chicago Athenaeum Good Green Design